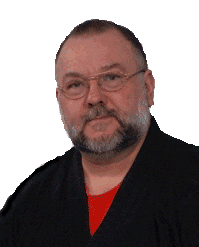 O Yama Ryu (Big Mountain School) was formed in 1992 by Kyoshi Kevin Garwood 7th Dan. The style taught within O Yama Ryu is called Goshin Jitsu. This is a purely self defence style based around traditional Ju Jitsu and Judo teachings.
Kyoshi Garwood has taught internationally as part of the International Fighting Arts Organisation teaching at the Gathering of the Masters in Spain, Ibiza and Las Vegas, also a regular instructor at the F.A.O. national seminar in London.
Kyoshi Garwood has been a passionate devotee of the Martial Arts for over 40 years with Black Belts in Judo,Dai Jitsu and Goshin Jitsu. He also teaches Qigong based relaxation classes and has teaching qualifications with the British School of Yoga, The British Combat Sombo Association, British Amateur Wrestling Association, British Amateur Weight Lifting Association and a Diploma in Sports Psychology, to name a few!
With vast experience and a constant thirst for more knowledge Kyoshi Garwood continues to lead O Yama Ryu and the All Styles Martial Arts Group forward with fresh innovative training.